Cuddle Cot donation will help more bereaved families say goodbye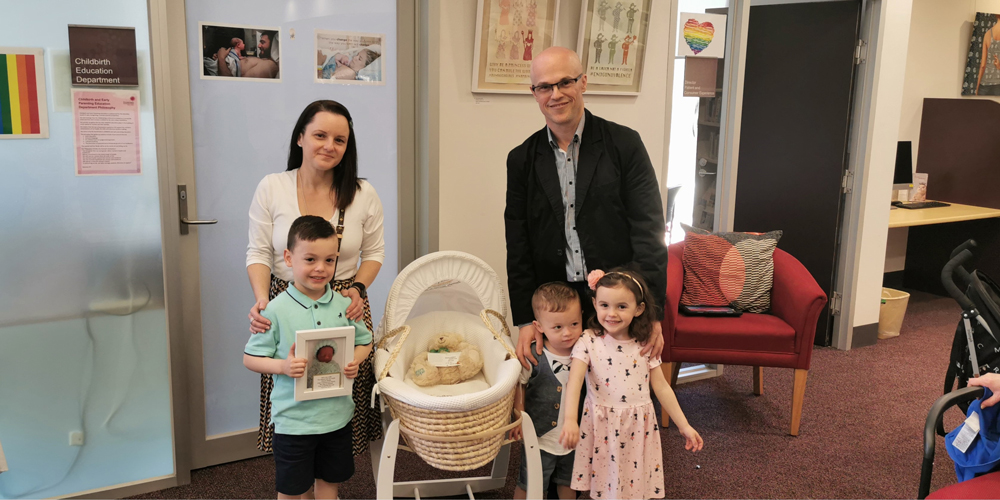 26 November 2019 | Pregnancy and newborns
The Royal Women's Hospital has gratefully received a new 'cuddle cot', generously donated by a family whose two children were expertly cared for in the hospital's Newborn Intensive Care Unit.
The Mihos family has raised $18,000 in memory of their first son, Haralambos Harrison, who was born at 23 weeks' gestation and sadly passed away the following day.
The cuddle cot, which comprises a bassinet and cooling mattress for bereaved families to place their baby, is one of three that the Mihos family has donated to hospitals around Melbourne with the funds they have raised.
Sharon Kirsopp, Reproductive Loss Co-ordinator at the Women's, said: "This is an incredibly special donation for us to receive and we are so grateful to the Mihos family.
"For future bereaved families this cuddle cot means they can keep their baby close and create memories spending as much uninterrupted time as they wish before saying their final goodbye."
In presenting this donation to the Women's, George and Maria Mihos were joined by their three children Connor, Nina and Louis for a morning tea. Connor, now six-years-old, was born at the Women's at 27 weeks' gestation.
Maria said the care the family received with Connor and with Harrison has meant they have a "long and close association with the Women's" following their care by "many brilliant and inspiring doctors and NICU nurses."
During her presentation speech, Maria said: "We are truly honoured that we have another connection now with this wonderful hospital to be able to donate our final cuddle cot in our sweet angel Harrison's memory.
"We are forever thankful to each one of our 99 amazing donors - from our dear family, friends, our workplaces and colleagues as well as from some anonymous and generous souls, some whom we have never met who have so generously donated their hard-earned money to provide comfort and begin the healing process for the next bereaved family in need."