Period packs dispensed for free for those in need at the Women's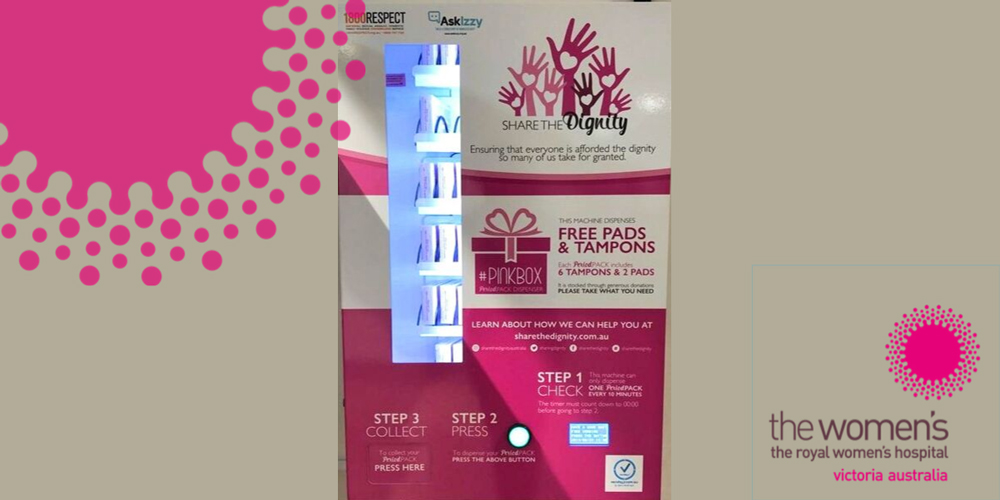 25 September 2019 |
A vending machine dispensing packs of tampons and sanitary pads has been installed at the Royal Women's Hospital to increase access to these essential products for women and girls.
The Pinkbox is an initiative of Share The Dignity – a charity set up to end period poverty and help vulnerable women and girls with the difficulties they face when getting their period.
The Women's Pinkbox is the 107th to be installed in Australia and one of 17 in Victoria.
Dr Sue Matthews, Chief Executive Officer at the Women's, said she is thrilled the Women's can be part of this fantastic initiative.
"Sanitary products aren't a luxury, they are essential. We are fully behind Share The Dignity's campaign; no woman should have to choose between eating and buying sanitary products.
"As a public hospital specialising in women's health, we have a range of women and girls that walk through our doors. We see women experiencing homelessness, family violence, financial hardship – being able to provide tampons and pads to those who need them is a privilege for the Women's."
Founder of Share the Dignity, Rochelle Courteney, said: "We'd like to thank the Royal Women's Hospital for hosting one of our Dignity Vending Machines and playing their part in giving women and girls from all walks of life access to essential sanitary products.
"As leaders in women's health, the Women's is in the perfect position to be part of the initiative and help combat period poverty.
"It's fundamental that patients have one less thing to worry about during what can be a stressful time of their life, and by providing sanitary products we can prevent unnecessary embarrassment and leave people to focus on their recovery."