Santa visits the Women's NICU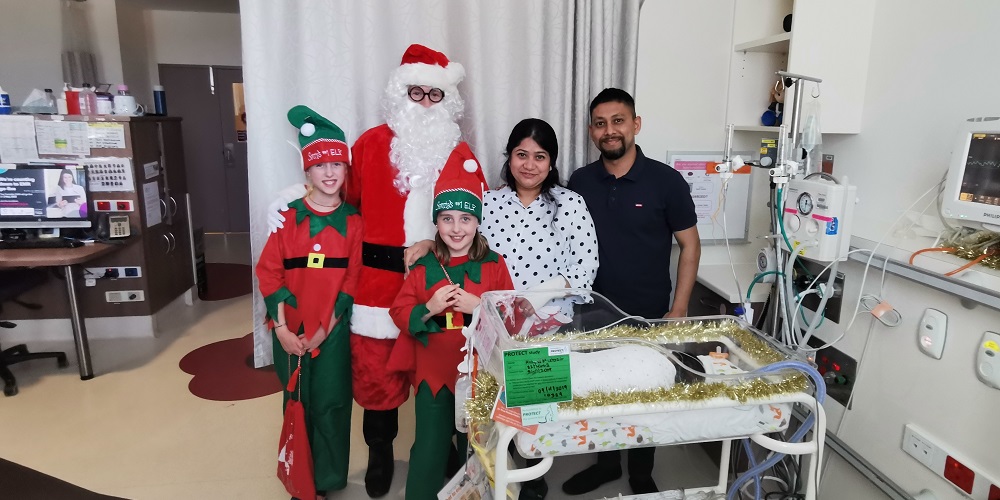 20 December 2019 |
Staff and volunteers are bringing festive cheer to families in the Newborn Intensive Care Unit (NICU) at the Royal Women's Hospital, as Santa and his elves deliver handmade blankets and Santa hats directly to the cots of the hospital's smallest patients.
The Women's NICU will be caring for up to 62 babies at any given time over the Christmas period with up to 31 nurses and five doctors. Many of the families will move their Christmas Day to the NICU, so they can care for their baby.
NICU Nurse Unit Manager Jo Bell said the team think it's important to keep spirits high over the festive period.
"No family expects to find themselves in NICU so it can be tough for families to have a sick baby and to feel that they won't be able to take part in their usual festivities at home. As well as providing expert care for these babies, it's really up to us to bring Christmas to them – and we love doing that," says Jo.
"We decorate the NICU with wreaths and baubles, run raffles, and give out gifts that are generously donated to the families over Christmas. Many nurses and doctors wear Christmas scrubs! We've even had the pleasure of hosting Santa and his elves this year which has been brilliant.
"It's all about putting a smile on people's faces and creating a really positive experience, alongside getting their baby better and ready to go home - where they all want to be."
Rezwana and her husband Fahim thought they would still be pregnant over the Christmas period, but when Rezwana was diagnosed with pre-eclampsia and her placenta was disrupted, her baby had to be delivered at 25 weeks' gestation.
Now over two months old baby Alayna weighs over 2.2kg, more than three times her birth weight. Mum, dad and in-laws flying in from overseas will be coming into the Women's to spend Christmas Day with Alayna.
"It's Alayna's first Christmas so we're really excited to spend it with her," says Rezwana.
"It's obviously not what we expected to be doing on Christmas Day, but the staff have made it so fun and I know that Alayna is receiving the best care possible – so there's no place I'd rather be this Christmas."
Gifts for babies and their families have been generously donated Life's Little Treasures, NICU Cheer and Premmie Brigade, as well as other volunteer crafters.