A sleep intervention that's saving lives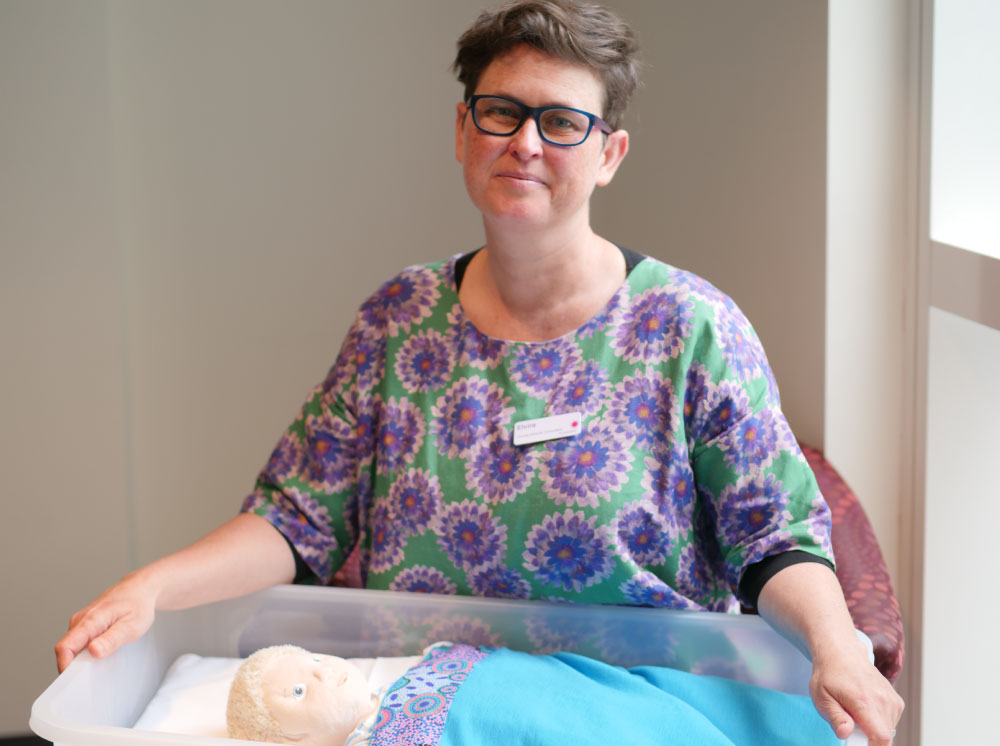 20 December 2022 | Your impact | Babies | NICU
The introduction of a simple, low-cost sleep intervention has had a profound impact on the rate of SIDS deaths of infants in the Women's Alcohol and Drug Service (WADS).
The Pepi-pod looks like a basic plastic tub. It's hard to imagine that something so simple could have such a significant impact on the rate of SIDS deaths in one of Victoria's most vulnerable populations. But this safe sleep intervention has proven to be incredibly effective at helping babies born in to vulnerable situations survive their infancy.
Pepi-pods provide a safe sleep space, allowing mothers and other family members to keep their babies close without sharing a sleeping surface.
The program, which was started in New Zealand, was introduced at the Women's in 2019 where it is primarily used for families involved with the WADS program.
Between 50 to 90 babies are born each year to parents who are part of WADS. Sadly, before the introduction of the Pepi-pods one or two babies would die of SIDS each year. Now, that number is zero.
"The parents we work with in WADS have complex substance issues and often their lives are very, very hard," says WADS midwife Elvira Earthstar, who has been one of the champions of the Pepi-pod project.
"Nearly all of the babies are exposed to tobacco smoke in-utero, which is one of the biggest preventable risk factors for SIDS deaths. A lot of them are going home to families where there's not much support for mum and where there might be issues around inadequate housing, nutrition and mental illness. A lot of babies are born pre-term and underweight. All of these are risk factors for SIDS.
"People who have substance-use issues face a lot of stigma, but these babies are loved, they're welcomed and their families desperately want them to survive. A SIDS death is devastating."
How Pepi-pods work
Today, families who come through WADS and meet any of the risk factors for SIDS are given a Pepi-pod when their baby is born.
The plastic tub has been specially designed with air vents on the sides and instructions printed on the bottom of the tub. It comes with a well-fitted, waterproof mattress, sheets and a lightweight wool blanket. The idea is that babies sleep in the pod beside their parent or caregiver, instead of sharing a sleeping surface such as a bed, mattress or couch.
No infant involved in the program has died of SIDS. "That has been really profound," Elvira says. "The Pepi-pods are keeping our most vulnerable babies safe."
Another benefit is that because the pod is portable, parents who are facing housing instability, or who need to spend time in a treatment or detox facility, can provide a sense of comfort and familiarity to their baby.
"A lot of the parents we work with know someone who has lost a baby to SIDS and they know they don't want to co-sleep with their babies. But anyone who has ever had a baby will know that it can be something you end up doing out of desperation because a traditional cot or bassinet might not work for all babies," Elvira says.
"The pod supports parents to get the sleep they need because they can keep their baby close. Their baby is likely to be able to sleep or settle more easily because their parents are nearby."
Pepi-pod is a tool for cultural change
Elvira says the success of the Pepi-pod program is about more than the device itself – it has become a tool for cultural change. Families are able to keep the pod once their babies have grown out of them at around four to six months, and they are encouraged to pass it on to another family in their community, educating them in the process.
"The Pepi-pod is an educational tool that allows us to spread the message about safe sleeping and the risk and preventative factors associated with SIDS," Elvira says.
"The aim is that parents who receive a Pepi-pod become champions of safe sleep within their communities."
The Pepi-pod program has been expanded beyond the WADS program to include babies identified as at-risk of SIDS across a number of the Women's maternity programs.