First Nations mothers contribute to critical maternity research at the Women's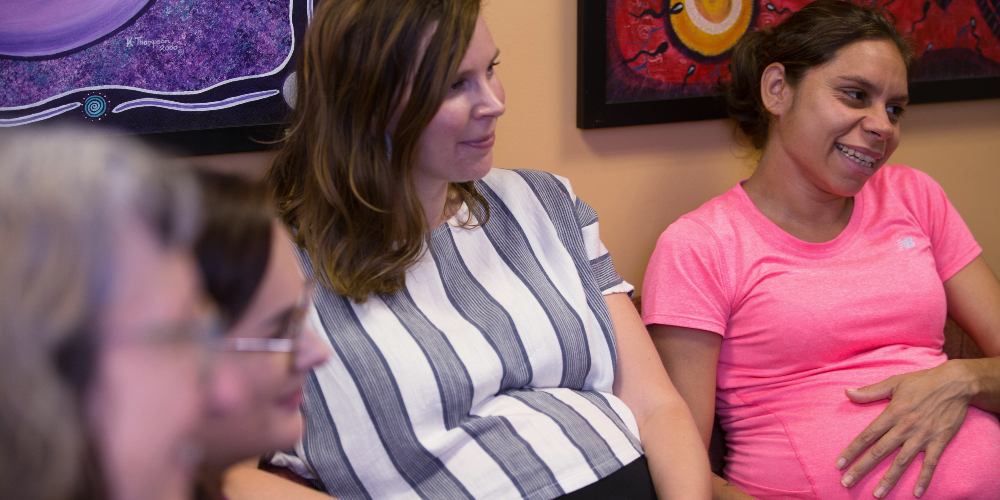 7 July 2022 | Research and clinical trials | Reconciliation
During NAIDOC Week, we are sharing what First Nations mothers have told us is most important in their maternity care. The research followed women through pregnancy, birth, and early motherhood
First Nations PhD candidate and former staff member at the Women's, Res (Pamela) McCalman, has teamed up with our researchers Fiona McLardie-Hore and Professor Della Forster to highlight the needs of First Nations mothers in urban Victoria.
Aboriginal and Torres Strait Islander women from 76 language groups, who received maternity care at the Women's, Mercy Health and Joan Kirner Women's and Children's Hospital between 2017 - 2020, took part in the study.
Participants were asked what things were important to them when receiving pregnancy, birth and postnatal care.
Nearly all of the 343 women valued privacy and confidentiality (98 per cent), and the trustworthiness of staff members (98 per cent). Access to support from family and loved ones was also highly valued (87 per cent).
Participants were also asked about a range of other factors, including maternal exposures to social stressors, cultural safety, and underlying economic determinants.
This helped to gain a more detailed understanding of the women's lives, so health services could in turn provide more appropriate care.
Researcher Res McCalman says it is one of the first studies of its kind.
"This work is critical, as the current data we have on what is important to First Nations mothers in urban Victoria is very scarce," she said.
"We need to hear First Nations voices in public healthcare, and make sure staff at the Women's are aware of concepts like 'Birthing on Country', and the importance of family groups to new mothers."
Most of the women who responded to the questionnaire also took part in the Baggarrook Yurrongi – Nurragh Manma Buliana research project (conducted by La Trobe University), which saw continuity of midwifery care offered at three sites.
The Women's researcher and Baggarrook research co-ordinator, Fiona McLardie-Hore, believes we all need to listen more in this space.
"In general, public hospital policy and care for Aboriginal and Torres Strait Islander mothers has not been informed by the women themselves – which is a problem," Fiona said.
"Studies like this help to change that by asking First Nations women, or women giving birth to a First Nations baby, what they truly need and value from a hospital."