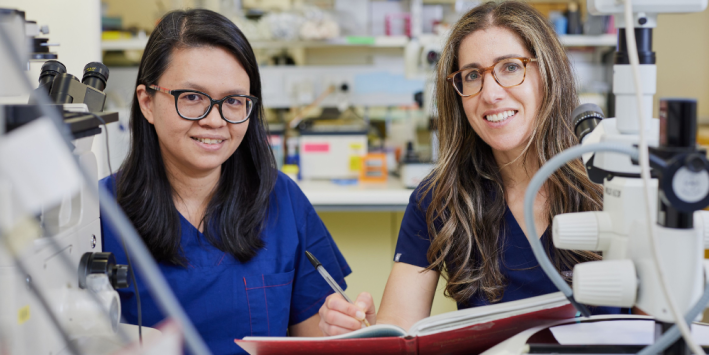 Our researchers are dedicated to finding better treatments and evidence-based approaches, so women and babies have the healthiest futures possible.
Each year we produce a research report which highlights important reseach we have undertaken. Our 2022 Research Report was launched on 19 October 2023.
Download: The Women's 2022 Research Report
In 2022, more than 10,000 patients participated in our research and we held 64 clinical trials.
Our researchers authored 264 peer-reviewed medical papers, contributing to global knowledge across the full spectrum of women's and newborn health.
Highlights of the 21 research projects showcased in our 2022 Research Report include:
evidence that suggests more effective treatment options may be possible for women with advanced ovarian cancer
research that shows our Baggarrook midwifery team and other First Nations-led midwifery teams at Melbourne hospitals are 'closing the gap'. We're so pleased that Aboriginal babies born at the Women's are less likely to be born prematurely or at low birth weight than in the past.
several studies by our IVF researchers, seeking to improve outcomes for people whose path to parenthood is not easy.
---